Guests for 2020 will be announced soon!
Past Guests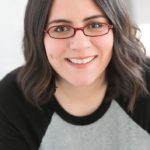 Chicago native Erica Mendez is a longtime anime and video game fan who put in the work and became a voice actress. She has been fortunate to play some fan-favorite characters, including: Retsuko in Aggretsuko, Ryuko in KILL la KILL, Gon in Hunter...
This is the attendee's rare chance to meet up close with the Guests of Honor. You'll be able to ask Guests questions in a more personal environment while enjoying a buffet style meal being provided by the hotel. Not only can you ask your favorite Guest...