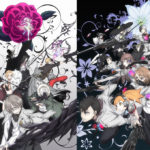 PONY CANYON

present

s

【

CALIGULA panel & the world premiere with special guests

】 

on Friday (3/30) of the Con

12:30pm – 1:30pm in Room 4C-2.

Caligula is the animated adaptation of the popular next-generation role playing
 game.
The animation is produced by SATELIGHT, a renowned animation studio known for producing "Macross" and "Acquarion" franchise.  Chiharu Sawashiro, the voice cast of the main role, and Takanori Matsuoka, the producer, will appear and talk about the world of Caligula and answer to your questions.  Don't miss the world premiere of the episode #1 of "Caligula", which is scheduled to release in April 2018.