Dustin

Dustin has been cosplaying since 2007. He first attended Anime Banzai in 2006 and was enamored with the costumes he saw, determined to come back in a costume of his own. Together with Jazzy, his wife/partner in Crepuscular Cosplay, Dustin focused on props and armor building, while Jazzy focused on sewing and wigs. Dustin loves to challenge himself to make each project bigger and better, working with thermoplastics, foam, wood, resin, and leather. Dustin has loved competing at Sakura-Con, and is looking forward to judging!
Jazzy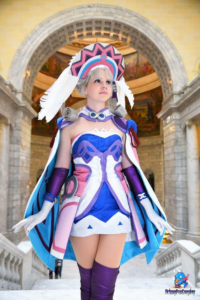 Jazzy is an expert seamstress and level 99 wig mage. She is very detail oriented and chooses costumes that challenge the concept of possible. From applique, hand embroidery, to beading there is no detail she will leave behind. Jazzy also has a passion for wig styling. She's been a competitor in Arda's Iron Wig contest and has had her work and tutorials featured many times. Other aspects of costuming that Jazzy loves are jewelry and accessory making. You'd be hard pressed to find a costume of hers without any resin cast jewelry.
Together she and her husband make up Crepuscular Cosplay!
Awards
Best in Show Nan Desu Kan 2016
Judge's Choice Award Nan Desu Kan 2016
Best of Group Masters Sakuracon 2017, 2016
Judge's Choice Award Sakuracon 2015
Best of Intermediate Sakuracon 2014
Best Overall Masters Anime Banzai 2015
2nd place Masters Anime Banzai 2014
Judge's Choice Award Anime Banzai 2014
2nd place Intermediate Anime Banzai 2012