Team Sakura is gearing up for a full year of events that promote and celebrate Sakura-con.  We want you to be a part of some fun and upcoming events where you can showcase your cosplay and appreciation of Japanese culture before Sakura-con 2019.  We will be available to sell memberships throughout the year.  We hope to see you at these events and help spread the word of our convention!


Jul 4th – Jul 7th 2019, Los Angeles, CA
Team Sakura will have a booth at this event. Please come by to say "hello"!
June 30th 2019, Bellevue, WA
Sakura-Con will be hosting a cosplay contest at 3PM at Japan Fair. Show off your latest creation and/or try your chance at winning a complimentary membership for you and a friend for Sakura-Con 2020. 
(To enter the contest sign up at the Sakura-Con booth by 2PM on Sunday June 30th.)
Admission is free to this wonderful community event. Come check out food vendors, cultural goods, performances and cultural workshops.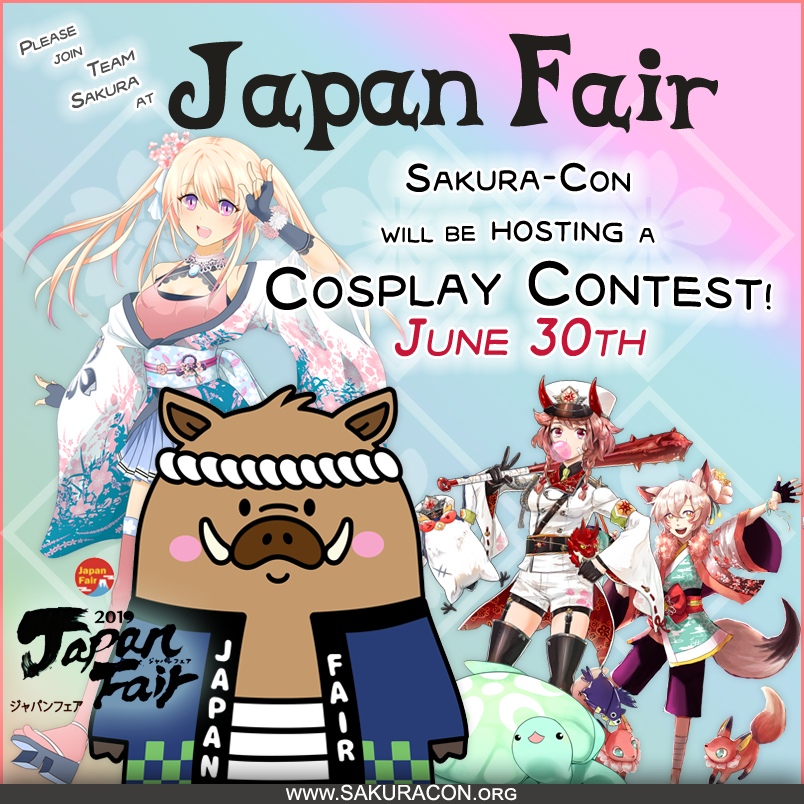 June 29th 2019, Seattle Washington International District
Come join in the fun of this unique and amazing street fair.  There will be performances throughout the day, vendors and tasty affordable eats. Dragonfest celebrates the diverse Asian community of Seattle.
Sakura-Con will be hosting a Cosplay Contest on the Dragonfest Main Stage! Sign-ups will be at our booth, contest time TBA.
July 21st 2019, Seattle, WA
A highlight of the cosplay year, come show Seattle how awesome cosplay is!
Please remember to bring water, sunscreen and to wear an appropriate cosplay to this family event. Map, meeting space and further details TBD. Start time is 7pm, so be sure to plan your arrival by 6:30.
Sept 28th 2019, Bellevue WA
A jam-packed extravaganza of everything that it means to be a fan of anime and Japanese popular culture. This is a Team Sakura recommended event.