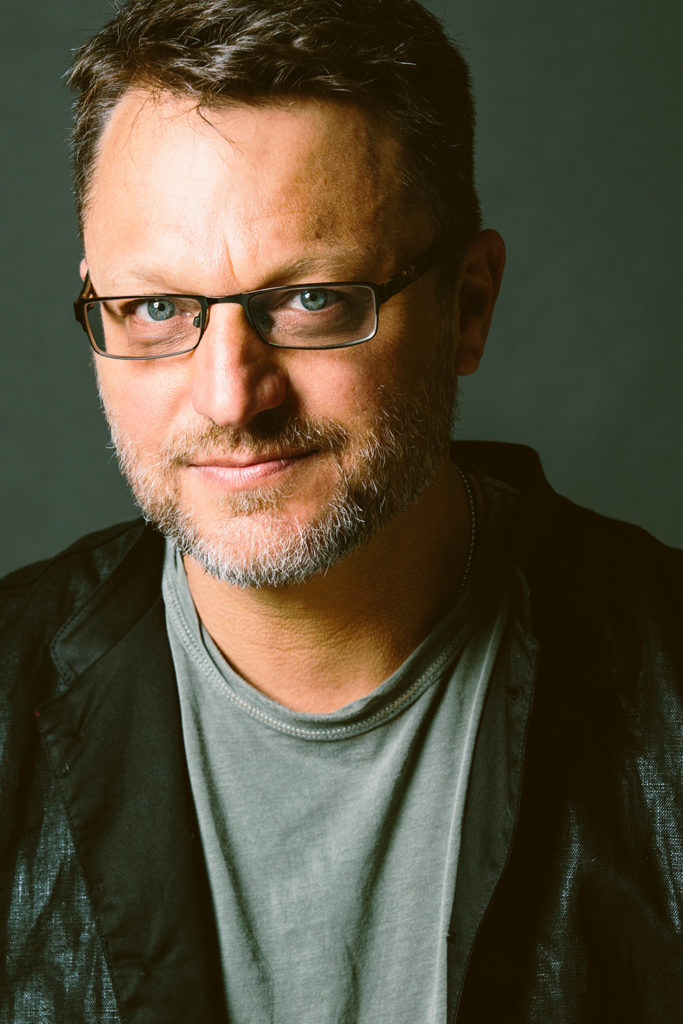 With literally hundreds of V/O credits to his name, Veteran Voice Monkey Steve Blum is best known as the voice of "Spike Spiegel" from Cowboy Bebop, "Wolverine" from several incarnations of X-Men (animated movies, games, the Wolverine and the X-Men TV Series, The Super Hero Squad Show, X-Men Anime and more), "Orochimaru," "Zabuza," and others from Naruto, "Green Goblin" from the Spectacular Spiderman series, "Heatblast," "Vilgax" and "Ghostfreak" from Ben 10, "Grayson Hunt" (Bulletstorm) "Grunt" (Mass Effect 2 and 3),"Zoltan Kulle" from Diablo 3, "Abathur" from Starcraft 2:Heart of the Swarm, "Tank Dempsey" (Call of Duty), "Killer Croc" from Arkham Asylum, "Oghren" (DragonAge),"Vincent Valentine" (Final Fantasy VII), "Leeron" (Guren Lagann), "Jamie" from Megas XLR, "Storm Troopers" and many others in most of the Star Wars games, The voice of 7-11, dozens of Digimon and a gigantic list of other characters from Anime, Video Games, TV and Film. In 2012, Steve was inducted into the Guinness Book of World records as Most Prolific Voice Actor in Video Games – appearing in almost 300 games (now approaching 400!)
Most recently, he appeared on the Emmy award-winning Transformers: Prime, playing the iconic, deadly and sometimes delusional Decepticon "Starscream." Also as "Devil Dinosaur" on HULK: Agents of SMASH, "Sub-Zero," "Reptile and "Bo'Rai Cho" in Mortal Combat X, several characters on Wabbit, Ultimate Spider Man, Ben 10: Omniverse, The Regular Show, Doc McStuffins, Uncle Grandpa, Wander over Yonder, Teenage Mutant Ninja Turtles, Tenkai Knights, and as the terrifying anti-bender "Amon" on the hit series Avatar: The Legend of Korra!
And after 4 years off the air, thanks to tremendous fan support, every Saturday night, Steve once again takes the helm of the great star cruiser Absolution, reprising his role as "TOM" the robotic host of Cartoon Network's Toonami on Adult Swim.
Look for him as "Zeb Orrelios" and other characters in the incredible series Star Wars: Rebels on Disney XD http://video.disney.com/watch/disneyxd-star-wars-rebels-meet-zeb-the-muscle-4f2b1b593eae5f050ebb9f4f
and as "Heatwave" on the action-packed, kid-friendly, Transformers: Rescue Bots!
The Boxtrolls!!! http://www.theboxtrolls.com/
Steve 'Dares to be Square' as "Shoe" and "Sparky"- in Laika's brilliant Academy Award nominated feature film! Now available on DVD and Blu-Ray.
And check out Hip Hop superstar LOGIC's amazing new album "The Incredible True Story" where Steve plays Astronaut Quentin Thomas on the journey to Paradise. http://mindoflogic.com/music
For more info, please visit steveblumvoices.com (Click Me)
On Twitter! @blumspew (Click me!)