Welcome to the Pacific Northwest – land of espresso and fresh seafood, bicycles and boats, computers and airplanes, high fashion and Gore-Tex, grunge rock and classical music, competitive business and a laid-back attitude, bus tunnels and floating bridges, skyscrapers and parks.
There's many things to do when you're in the Greater Seattle area. For example, you can go to two high-tech museums being the Museum of Flight, or the brand new Experience Music Project. For sports, you can catch Japanese baseball players at Safeco Field with the Seattle Mariners. There's tours of the city of Seattle by a DUCK, or walk through Boeing's aircraft assembly plants in Everett. Automobile Racing can be viewed at Pacific Raceways, or see the horses race at Emerald Downs. To the south in downtown Tacoma, you can visit their three new museums: The Museum of Glass, and the America's Car Museum. The northwest has plenty of exciting things to do. Below is a list of links to sites that will help you find these events and places.
Seattle Convention Center
Sakura-Con 2022 will be held at the Seattle Convention Center. Browse the SCC map below, or download the PDF version.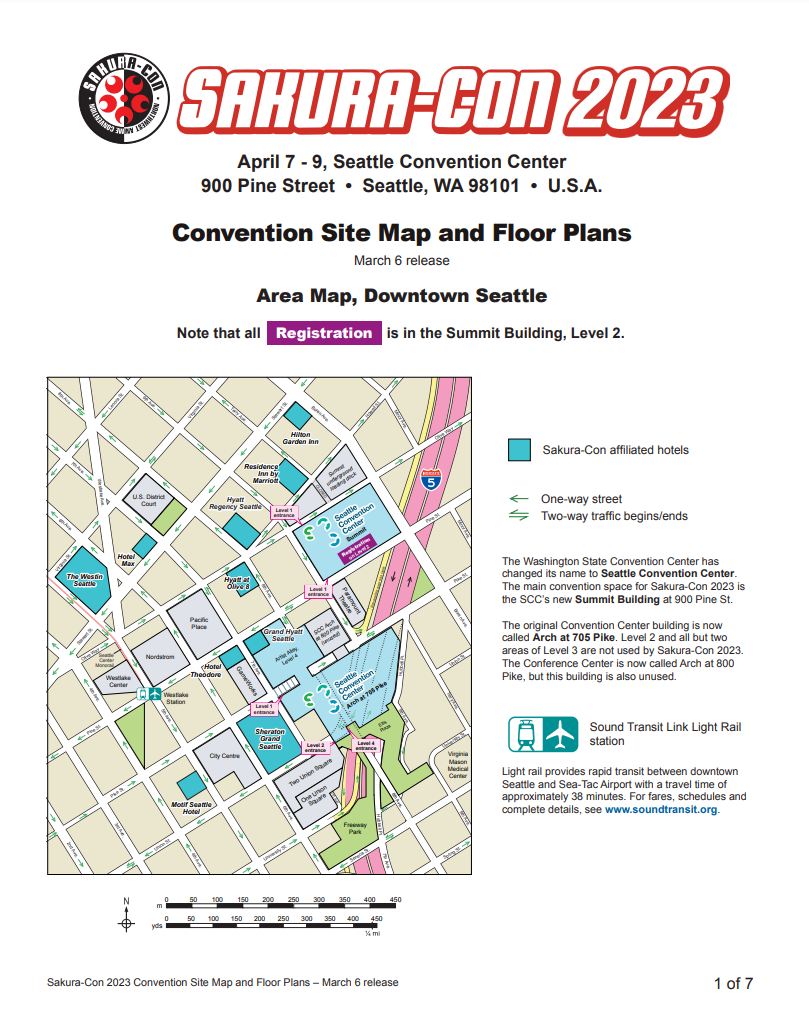 ADA at the Seattle Convention Center
The Convention Center is fully ADA compliant. Browse the SCC Accessibility Map below, or download the PDF version.
Please contact the SCC visitor center if you need further assistance.
Sakura-Con Courtesy Support
If you need disability access to Sakura-Con Events, please check in at the Reception Office in room 202 or ask at Registration when you pick up your badge. A sticker can be provided for your badge if you'd like to nonverbally identify yourself to staff for accommodation during seating and events. You can choose, of course to simply ask staff when you need assistance, the sticker is offered for your convenience.
Additionally, we have large print versions of our Pocket Guide and pre-marked maps available at Info Booth, which highlight elevators for those with visual and/or mobility concerns. Info Booth is located on the 4th floor to the left of the escalators, if you have any questions or need assistance. Additionally, any Sakura-Con volunteer staffer or brown-coated convention center staffer should be able to assist.
Convention Bureaus
Information Sources